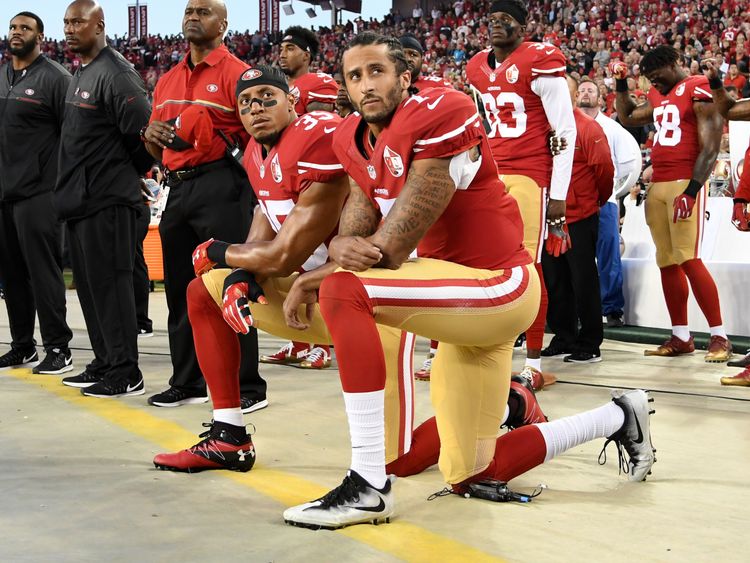 But it sparked criticism from fans and even President Donald Trump on several occasions. He predicted there will be mass boycott of the brand and said Nike's stock prices would immediately drop.
Unsurprisingly, given the mixed reaction to Kaepernick's protest, Nike's decision has prompted strong views of support from certain quarters and condemnation from others.
Nike and the National Football League signed an 8-year deal for team uniforms and apparel in March.
Trump, without offering evidence, said in a post on Twitter that the sportswear company was "getting absolutely killed with anger and boycotts".
Nike is the NFL's official apparel sponsor and chose Kaepernick to celebrate its "Just Do It" 30th anniversary campaign.
A Nike advertisement featuring Kaepernick hit social media on Monday and instantly began trending nationwide for its controversial messaging.
"Yeah. First of all, I do have tremendous respect for Nike as a company and for Phil Knight and just everything they've meant to sports", Jones said.
"The social injustice issues that Colin and other professional athletes have raised deserve our attention and action".
"But I think as far as sending a message, I think it's a awful message and a message that shouldn't be sent", Trump said.
"Just bought a pair of nikes yesterday not knowing about this, but NOW I will be returning them!"
By James saying, "I stand with Nike", rather than naming Kaepernick and making clear the former NFL QB's beliefs, it's easier to lose sight of what he has been protesting all along - racial inequality in America, not the country's virtues.
"He's done a lot for the African-American community, and it's cost him a lot", Williams said in a press conference Tuesday night.
On Monday, Williams, 36, tweeted a Nike ad of a young girl playing tennis that read, "It's only a insane dream until you do it".
Other athletes in the campaign include tennis star Serena Williams, New York Giants wide receiver Odell Beckham Jr. and Shaquem Griffin, a linebacker whose left hand was amputated when he was 4.