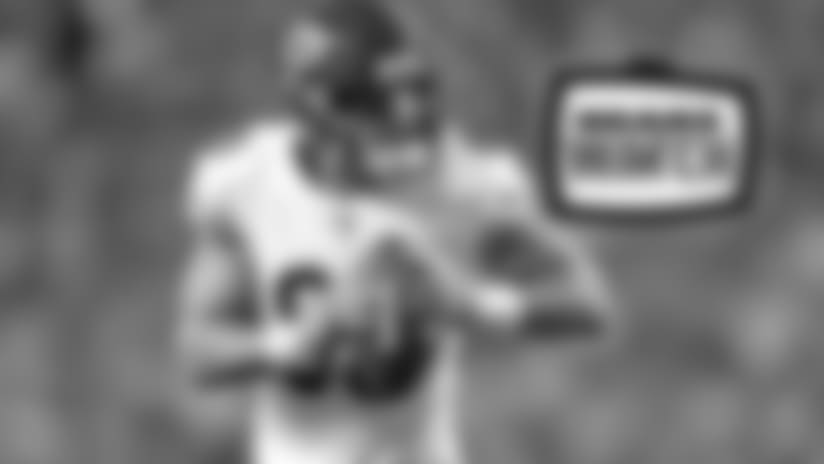 The Packers rallied from a 20-point deficit behind a hobbled Rodgers to pull out a wild 24-23 victory.
The Packers plan to run more tests on their QB on Monday, though Rodgers seems to think his availability for next week's game against Minnesota is a foregone conclusion.
Afterward, Rodgers told NBC he had hurt his knee on that first-half sack, but he guaranteed he would play next week.
Prior to his injury, Rodgers completed only three of seven passes for 13 yards and was constantly under pressure by the likes of Khalil Mack, Akiem Hicks and Roy Robertson-Harris.
So, what was Rodgers thinking when he returned to the field with the Bears up 17-0?
Rodgers was in obvious pain after taking a sack in the second quarter. After a Clay Matthews penalty, the Bears got a first down but Chicago couldn't convert on its next fourth down.
After he was taken to the medical tent to be evaluated, Rodgers was carted to the locker room amid concern that Rodgers may have sustained a serious injury.
Kizer replaced Rodgers on Green Bay's next drive.
But Mack was not to be denied, getting a strip snack and recovery off backup Deshone Kizer. Green Bay fans have to hope that Rogers stays on the field and doesn't suffer an early broken collarbone injury like he did last season. Quarterback Mitch Trubisky and coach Matt Nagy will be blamed for the loss, but the Bears' defense broke down after Rodgers returned in the second half. Up 20-17, Nagy called for a passing play on third down and a field goal on fourth. The first score came off a 39-yard touchdown pass to Geronimo Allison. Both times cornerback Prince Amukamara was in coverage. And if we've learned anything from Rodgers, it's that he always feels like he has something to prove, even if he's still one of the NFL's best quarterbacks. Green Bay was able to move with tempo.
It was the start of a good night for Mack. The Raiders didn't want to give Mack $90 million guaranteed, but the Bears were willing pay the price and lose two first-round picks in the process.
"Like I've seen him do it from afar, you know what I mean?"