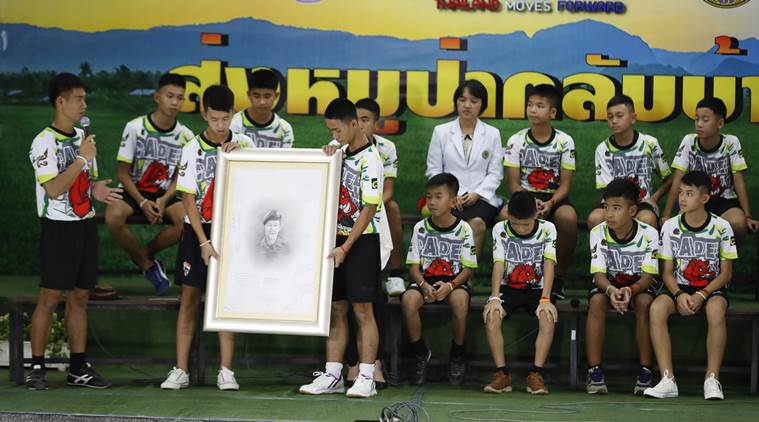 Twelve Thai boys and their football coach have been discharged from hospital, a week after a daring rescue operation saw them extracted from a cave where they had been stuck for more than two weeks.
As the floodwater rose, he said, they all chose to go deeper into the cave, believing they could find another way out. Many of them could swim - contrary to initial reports - and so they tried to venture out.
The "Wild Boars" team members wore football jerseys when they entered the conference room in Chiang Rai province after being discharged from hospital.
Thailand's chief government spokesman Sunsern Kaewkumnerd told news agency AFP: "The reason to hold this evening press conference is so media can ask them questions and after that they can go back to live their normal lives without media bothering them".
Ekapol asked the boys whether they still wanted to continue with their plan, and they did.
As the water in the cave rose, they were forced to retreat and regroup.
"I told everyone fight on, don't despair", said one boy, describing how the group had battled to stay alive.
Another said: "It was the time when our hearts burst". They conceded that they would have to spend the night in the cave and searched for a place to shelter.
The youth football team rescued after 18 days trapped in a flooded cave in Thailand are expected to be released from hospital and to speak about their ordeal.
"I just said, 'Eat, eat, eat!'" said Adun with a boyish laugh as he sat before a crowd of reporters from around the world, many of which had been camping at the mouth of the Tham Luang cave for nearly two weeks.
Several said they want to become professional soccer players, while four said they want to emulate the heroes who saved them.
"We realized we were trapped on our way back", he said.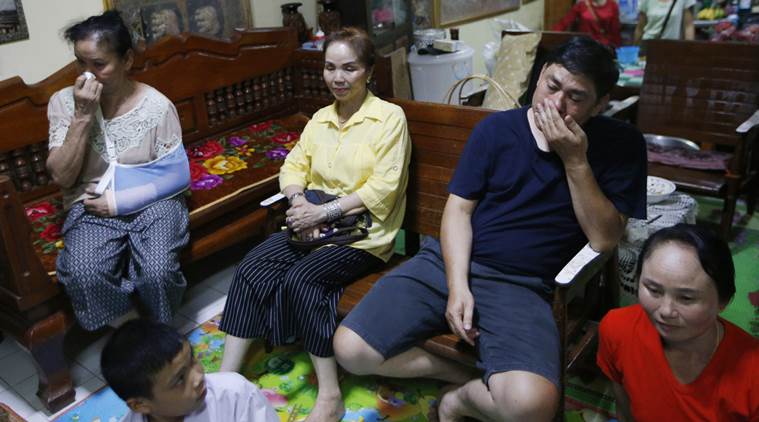 Thai cave boys were digging when they heard rescuers
"We planned to go for an hour", he said. "I tried not to think about food so I didn't get hungry", the youngest team member Titan said.
This contrasted to an average of 4kg lost during the more than two weeks they were trapped. They decided not to move any more and continued to dig instead.
"We stayed near a water source. But it was the only option we had, and we took it".
But a happy ending was far from assured.
"Everyone was so happy when they heard the noise of the divers".
"We'll do whatever he wants", Banphot said. "The water rose three meters", or almost 10 feet. In response, he ordered the group to find higher ground. They also talked about returning to the cave the next day.
Another member of the team, Adul Sam-on, said that when they realised they had been found by the divers, it was "magical". At first, they thought they were hallucinating.
The Thai boys and their coach have spoken about their cave ordeal, where they dug holes to try to escape. "Is it true? I was frightened, I was nervous". Another added: "If I had let them know, there's no way they would have let me go".
The worse was feared after eight days of searching yielded no signs of life, but on 2 July they were discovered by two British divers.
Panumas "Mig" Sangdee, 13, had a flashlight in his hand but he was too scared to go and investigate the source of the voices, Adul said. So I said I am okay.
Recalling the moment when British divers emerged from the surface, Ardoon said, he was shocked; all he could think to say was "Hello!"LILLIAN SUWANRUMPHA/AFP/Getty ImagesREMEMBERING A HEROOn a more somber note, the boys said they were sad to learn of the death of Saman Kunan, the 38-year-old former Thai Navy SEAL who died during the rescue mission".