Mudslides and flows of debris brought by the region's first winter storm have stranded hundreds of people in Santa Barbara County.
The heavy rains have been risky because vegetation is missing - burned away by the Thomas Fire - that would normally help channel the water and mud flow. At least 25 others were injured, and fire officials with the Santa Barbara County Fire Department told ABC News that they had conducted "dozens and dozens" of rescues.
Search teams, including search-rescue dogs, continued to look for victims into Tuesday evening.
"We're performing multiple rescues".
Montecito is a wealthy enclave that is home to such celebrities as Oprah Winfrey, Rob Lowe and Ellen DeGeneres, said Santa Barbara County spokesman David Villalobos.
There was a backlog of scores of callers requesting help.
With many roads blocked, rescue crews used helicopters to pluck people from their rooftops.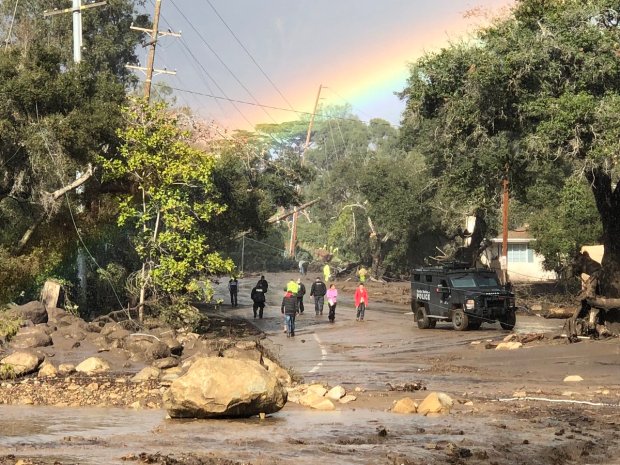 Remembering the Victims of the Montecito Flood Mike Eliason Santa Barbara County Fire Department
Gigi and Bella Hadid, who are from Santa Barbara, also posted images of Montecito covered in mud and submerged underwater.
A major north-south highway along the coast, US Route 101, was closed in both directions and not expected to reopen until next week. "There's really not much of anything left". "I've just been clawing through the mud and it's hard to hold hope when the mud is so deep", he said, "but it's your mom.so you just have to keeping going".
"Woke up to this blazing gas fire".
A month ago, Ventura and Santa Barbara counties battled the Thomas Fire, the state's largest wildfire on record, which - fanned by strong winds and dry brush - burned 281,620 acres. Burn areas are more susceptible to flooding because rain bounces off the barren surface instead of being absorbed into the soil.
The worst of the rainfall occurred in a 15-minute span starting at 3:30am on Tuesday.
Eight commercial properties were also destroyed and 20 were damaged. Thousands of residents of southern California were instructed to evacuate ahead of the storm for fear of flash floods aggravated by the loss of vegetation in the fires.