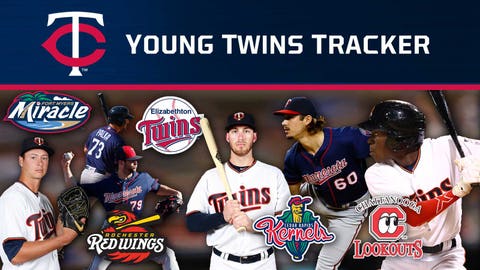 Jason Castro singled home two runs in the ninth inning, part of a three-run rally that gave the Twins a 4-2 win over the Angels and snapped Minnesota's four-game losing streak.
The Los Angeles Angels played the percentages Thursday night, and the Minnesota Twins made them pay dearly for it.
The Twins went on to beat the Angels 4-2.
Castro lined a 1-2 pitch into left field to score Polanco and Rosario. Since that outing, he has not allowed more than five hits in any of his four starts.
It was the second triple play in the majors this season.
On a ground ball hit by Angels first baseman Jefry Marte, Twins third baseman Miguel Sano fielded the ball and stepped on third base before throwing to second.
The Angels hadn't had a triple play turned against them since July 7, 2004. The lone stinker he has thrown in six outings this season came when he yakked up six runs to the Mariners on May 2.
Second baseman Brian Dozier recorded the second out before throwing to first baseman Joe Mauer to complete the triple play.
Angels: Placed OF Cameron Maybin on the 10-day disabled list was a left oblique bruise. RHP Daniel Wright was designated for assignment.
Twins: 3B Sano, who leads Minnesota in home runs (12) and RBIs (39), returned to the lineup in the cleanup spot after missing two games with an illness. Closer Cam Bedrosian (groin strain) is scheduled to start his rehab assignment Friday with Single-A Inland Empire.